We just moved into our Ballard Construction home and we could not be happier!! Ballard Construction has exceeded our expectations. Building our custom home has been the best experience. Mike and Brent Ballard have been so helpful through the whole process. They have maintained professionalism but also been so helpful to us being a first time builder. It's the extra things that make a huge difference. For example the soft corners, excellent crown molding and so much more. Our home was ready on time. They have offered us excellent answers to all of our many questions. It's a true blessing that we found Ballard Construction. We highly recommend them to anyone wanting a beautiful, reasonably priced home.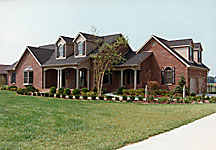 I talked with a lot of people, and Mike Ballard's name kept coming up. Everyone who knew Mike had nothing but praise. We went with him, and it was one of the best decisions we've made.
Great reputation, but well earned. His custom builts are amazing. Great business man whos word is as good as gold. Id recommend them to anyone.
Excellent builder, wonderful people, would recommend them over any other!